Christmas markets at the Kurfürstendamm, Alexanderplatz and nearby the Rotem Rathaus in Berlin. I tell you where you find a rink for ice skating and real snow, which doesn't depend on the weather.
What is a Christmas Market?

Christmas markets are street markets during the weeks if Advent. These kind of markets are really typical for Germany, but also Austria, South Tyrol (Northern Italy) and some eastern regions in France. The history goes back to Late Middle Ages of German-Speaking parts in Europe. Christmas markets have a lot of different stalls which sell all kinds of things, also typical Christmas dishes as German gingerbread ("Lebkuchen"), candied almonds, a variety of sausages ("Bratwurst") and hot mulled wine ("Glühwein").
City-Christmas market at the Gedächtniskirche
One of the most famous churches in Berlin is the "Kaiser-Wilhelm-Gedächtniskirche" at the Kurfürstendamm in Charlottenburg.
I really enjoyed the mood of the Christmas market there, because of the thousand beautiful lights in the trees and above. Really typical for the markets in Berlin are the big Christmas pyramids with candles and figures from the nativity scene. Above the pyramid is a wheel, which turns around.
The entry of the "City Weihnachtsmarkt"
The Christmas tree at the entry
"Kaiser-Wilhelm-Gedächtniskirche" (Kaiser Wilhelm Memorial Church) is in the thick of the market
A carpet of lights
The Christmas Pyramid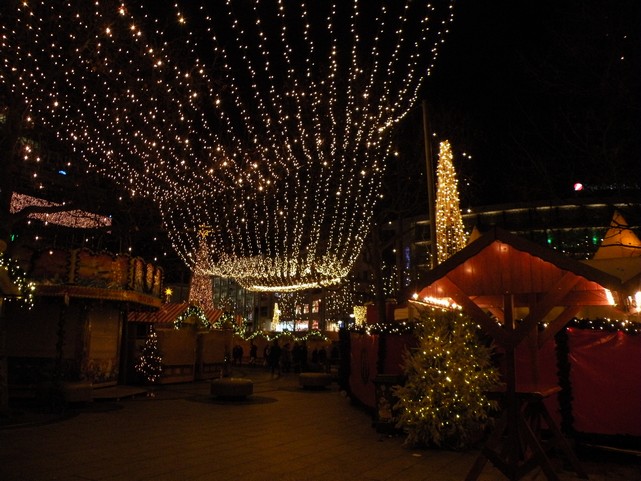 A big Christmas ball ornament
Christmas Market at the Alexanderplatz
The Christmas Market of the Alexanderplatz has many different food booths with typical German sausages, French Crêpes and sugared almonds.
Furthermore, the stallholders sell different Christmas stuff like candles, star lamps, soap, clothes or all other kinds of things for decorating or design your home. It has a big carousel for children nearby the 'World Time Clock' and a really cool Christmas pyramid. One floor is a little indoor room, where you can drink your hot mulled wine. Around of the pyramid are tiny fireplaces. One of the highlights is the snow which falls down from the pyramid at every full hour. And this snow will fall without matter if it's cold enough or not (the snow is foam).
The "World Time Clock" in front of the Christmas Pyramid at the Alexanderplatz
Snow and the Television Tower in the background
Snow at the Christmas pyramid
Alexanderplatz
Christmas Market at the Rotes Rathaus
Not far away from the Christmas market at the Alexanderplatz you will find the next big market.
It's near by the Rothem Rathaus (red town hall). It has a big wheel and a skating rink around the fountain (Neptunbrunnen) for ice skating. One special menu in Berlin is warm green cabbage. Normally it will be served with sausages. Another particular dish is Lángos from Hungary and fried apples.
Different decorations and lights
A big wheel at the Christmas market of Rothes Rathaus
... fried apples