About world cultural heritage, clichés, dog sitters, national heroes and  really nice people.

Ferry to Colonia del Sacramento
While my vacation in Argentina I thought it would be a good opportunity to visit also Uruguay. I read about the ferry from Buenos Aires to Colonia del Sacramento and my Argentinian friend helped me to buy a ferry ticket in a tourism office. On Thursday started my trip to Uruguay. First, I had to check in for the ferry. There is one control for Uruguayans, Argentinians, Brazilians and Paraguayans. Because these four countries have an agreement similar to the Schengen Agreement on the European Union. So I had to take another pass control with fingerprints, cameras and a new stamp for my passport. The ferry only needs one hour to cross the Río de la Plata from Buenos Aires to Colonia del Sacramento.
A city full of World Heritage
Colonia del Sacramento is in southwestern Uruguay nearby the Río de la Plata. It is one of the oldest towns in Uruguay and was a Portuguese colony in the past. Actually, it was also founded by Portugal. However, at some times Spain, Brazil and the Liga Federal also ruled Colonia del Sacramento. Since 1828 it is officially a town of Uruguay. About 27,000 people live there. It has a beautiful old town with a historic quarter which is part of UNESCO World Heritage.
Tourism attractions are the lighthouse and the ruins of a convent (Faro y Convento de San Francisco). On this day I met a lot of school classes. I am not sure what they celebrated but they also had a little ceremony at the big fairground, the Plaza Major del 25 de Mayo. But perhaps that was the reason I saw  a few men dressed in traditional uniforms. Furthermore, one other attraction of the old city is the "Portón de Campo", it means the city gate and wooden drawbridge.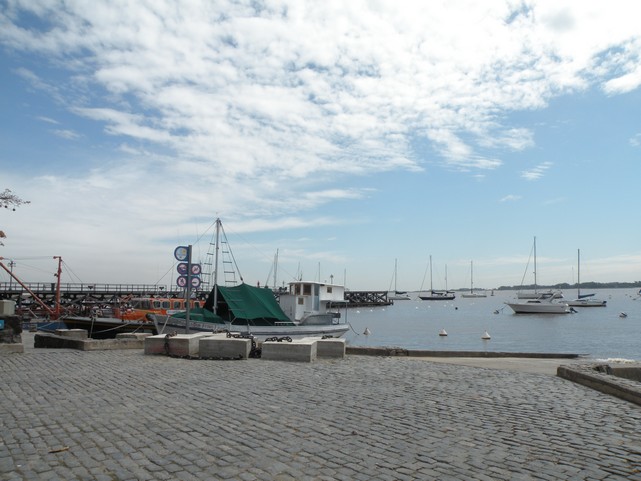 At the Río de la Plata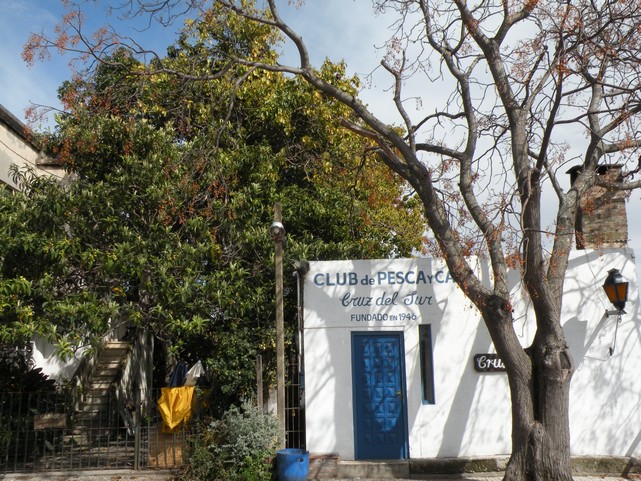 In Colonia del Sacramento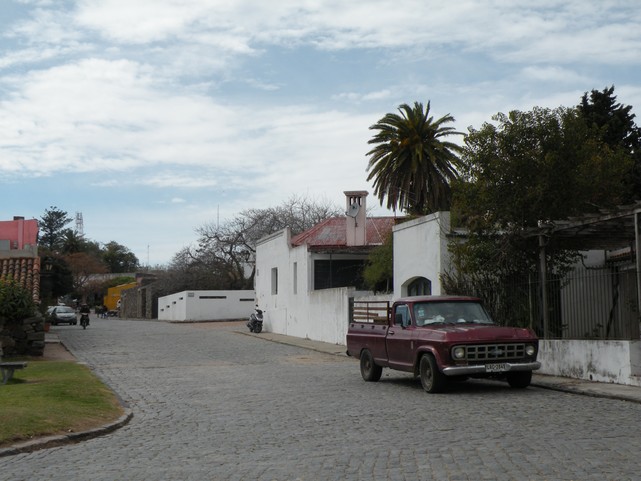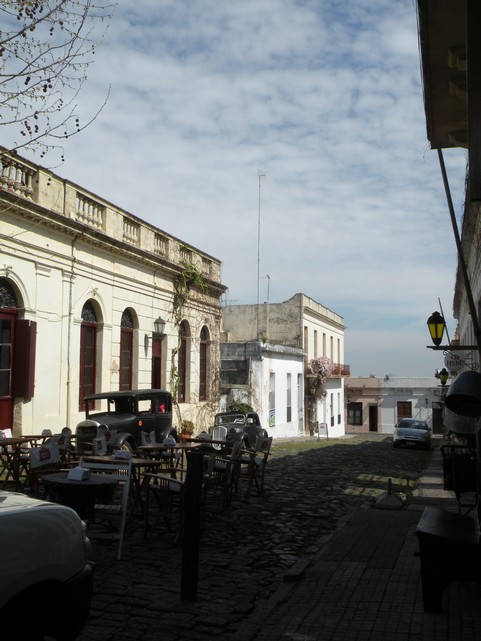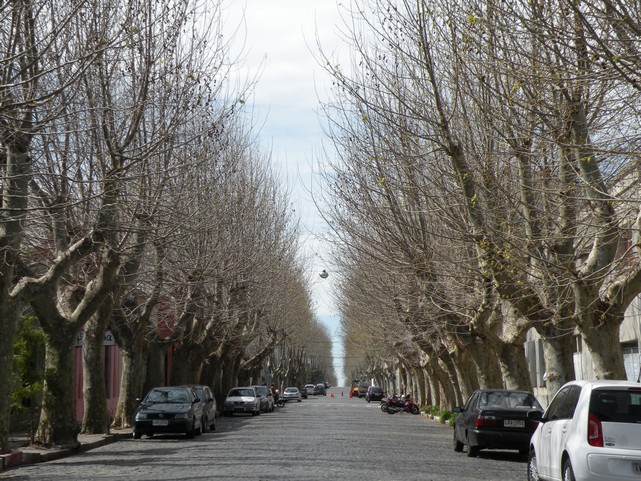 Many streets were lined with trees. - It was End of Winter/ Beginning of Spring, so the trees were still bleak.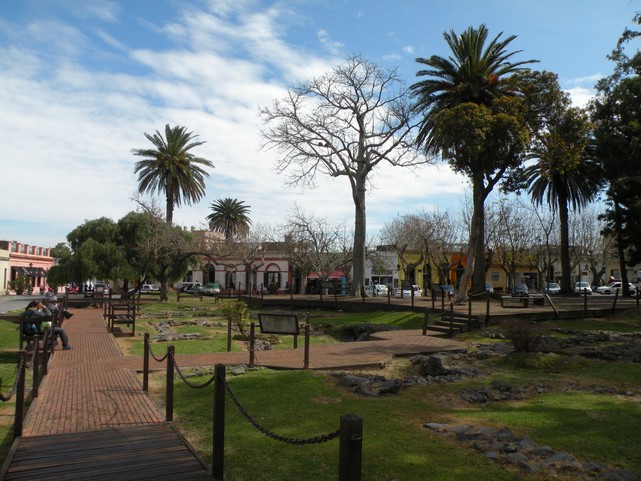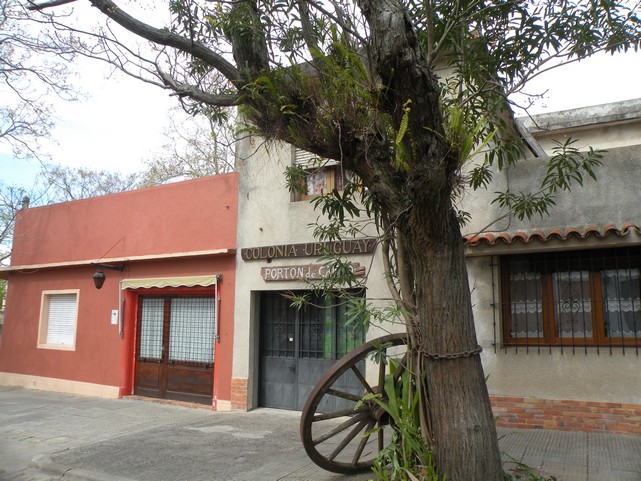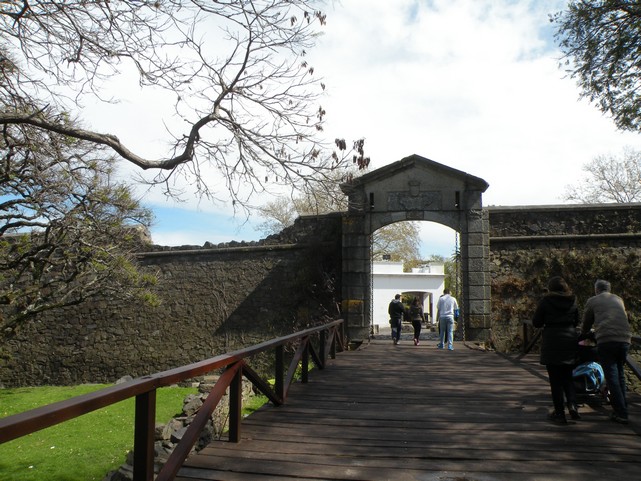 The city gate of Colonia del Sacramento.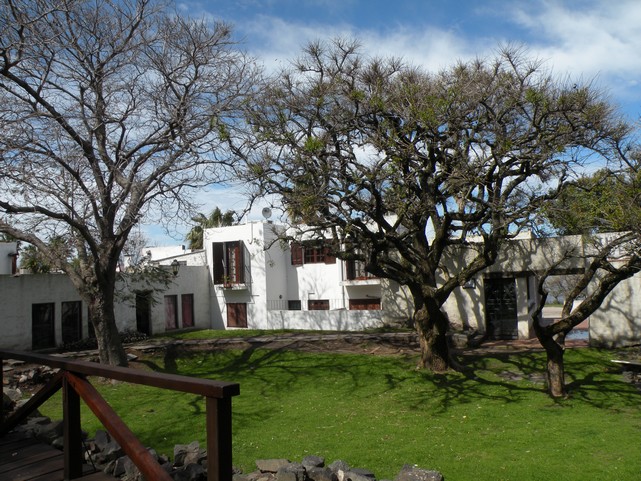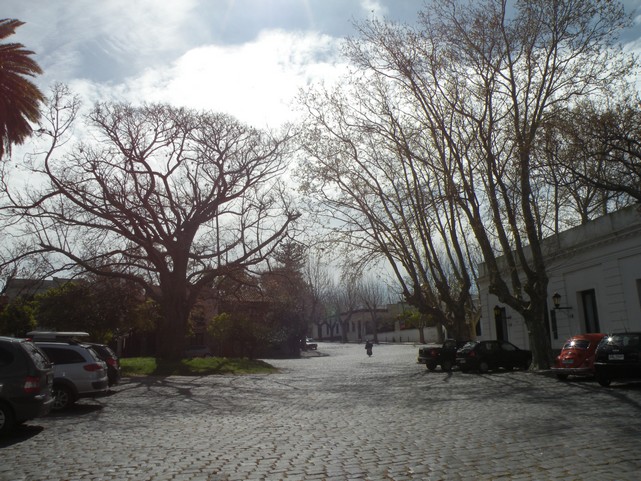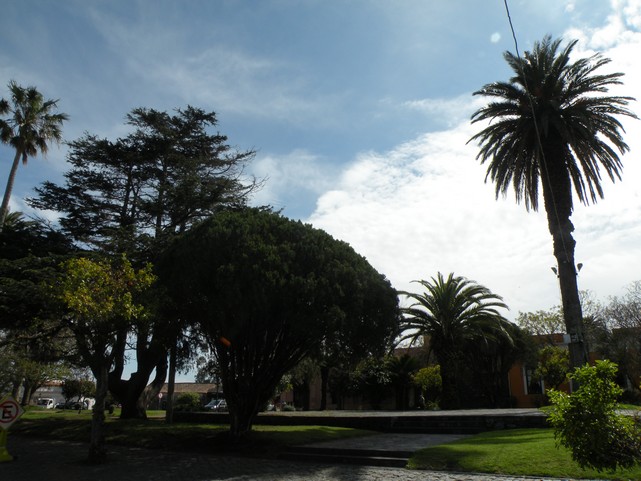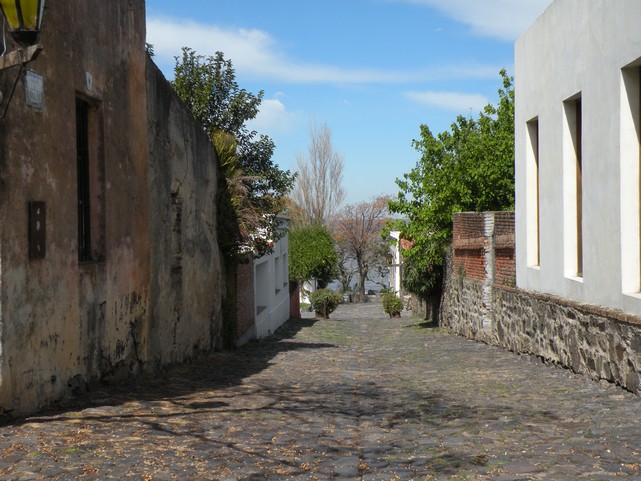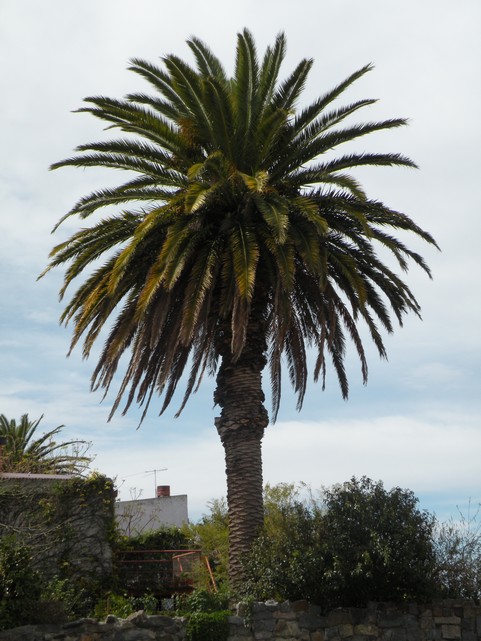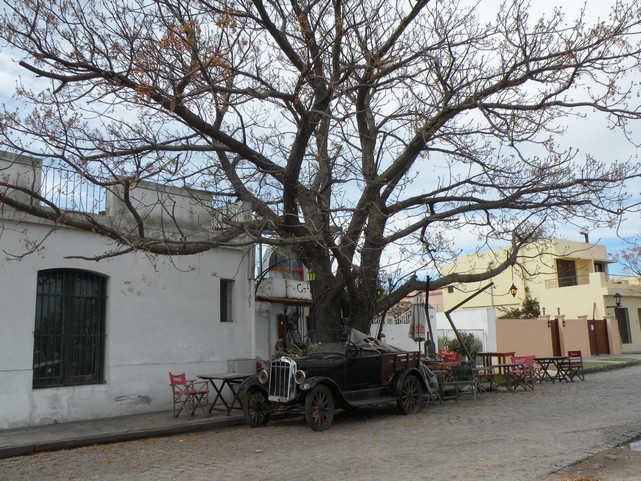 The suburb of Montevideo
In the afternoon I took the bus to Montevideo. The buses are really comfortable and as good as new. After more than three hours we arrived at Montevideo. Before we crossed the borders of the city we passed some suburbs of Montevideo with dirty little houses and walls which looked like they were made out of corrugated metal. The tourist guide recommends avoiding to visit such places because the crime rates are really high there. I felt a little bit awkward to see so many poor people and felt the differences between these places and the beautiful old town of Colonia del Sacramento  – and of course also to my home country Germany.
All Germans have blond hair?
When I arrived in Montevideo at the late afternoon/ early evening at the bus station. I decided to walk to my hostel and explore a little bit the surrounding. The Uruguayans were really nice and asked me if I would need help because I stopped from time to time to take a look at my map. However, I found the way on my own. I had a bed in a shared room in a hostel. The name of it was Tibet Hostel and that was the reason why the whole hostel was decorated with colourful cloths, umbrellas, and lamps. I really loved the atmosphere. The guys from the Hostel explained me later that they named their hostel after their trip to Tibet. It sounded really adorable, I would love to get the chance to travel to Tibet. Unfortunately, it is really hard to get a visa. We heard some music – I showed a German music video and one of the owners were really confused that there were also some brown- and black-haired women in the music video. He thought all Germans have blond hair. So to everyone who also thought this: No, this is a cliché. Actually, I think I read most Germans have brown hair. The remaining night I sat in the bar of the Tibet Hostel. I drunk a Mohito and a Caipirinha with strawberries. Tasty! And I also ate some really good fries and Chivitos.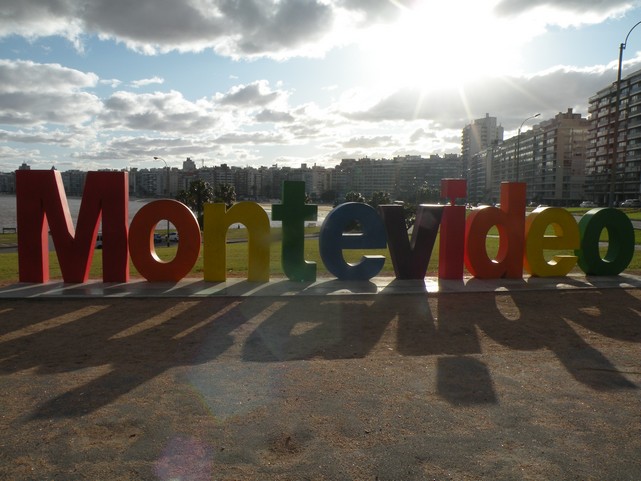 The letters of Montevideo.
After my arrival in Montevideo.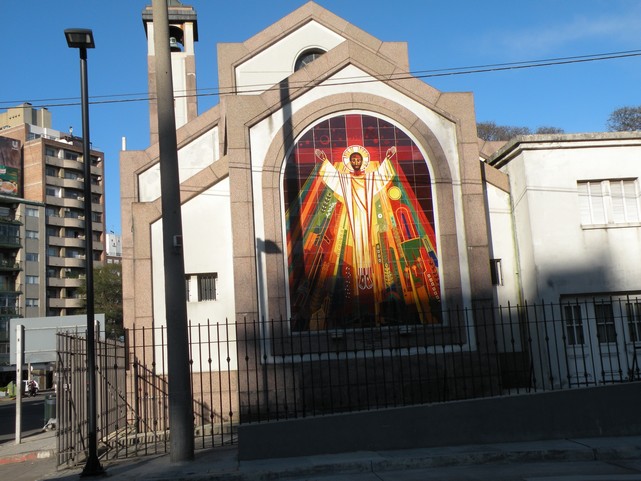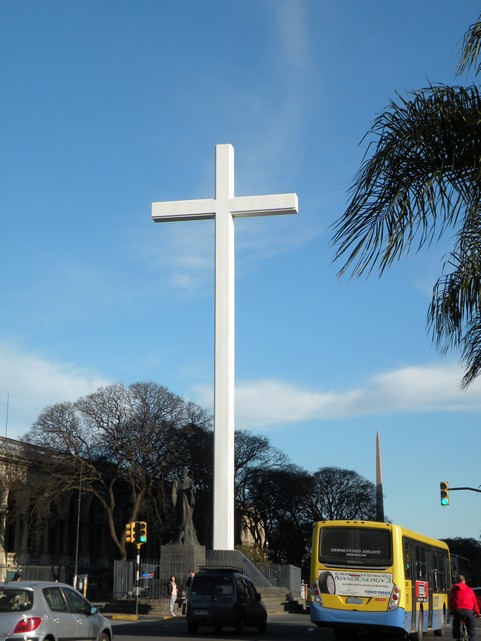 The district "Tres cruces" (Three crosses)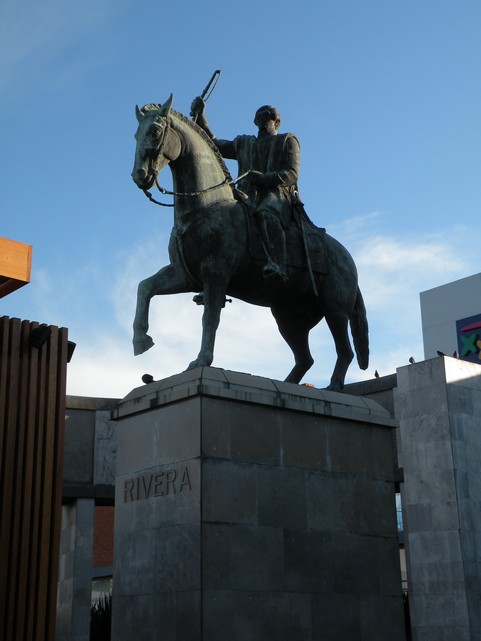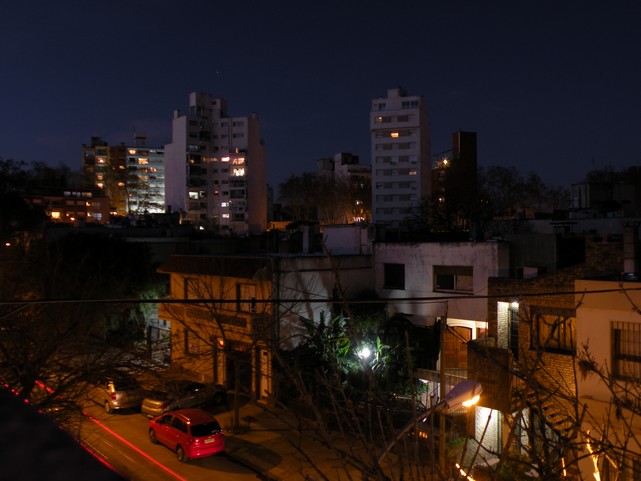 The view from the small roof-deck of my hostel.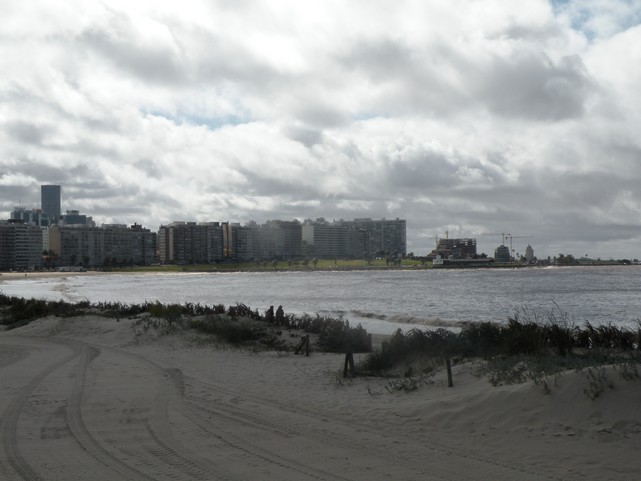 Walk at the beach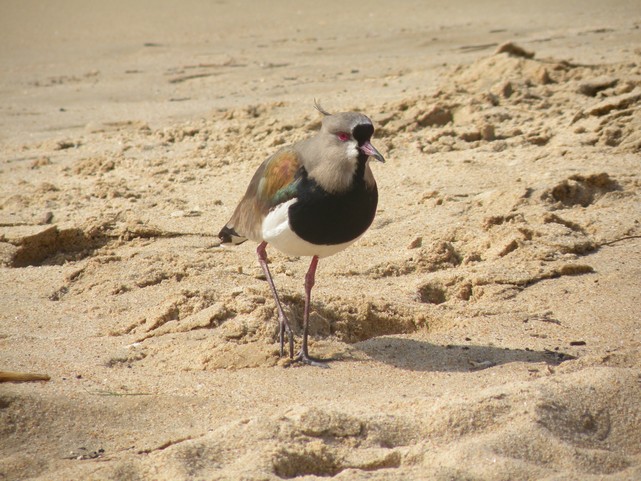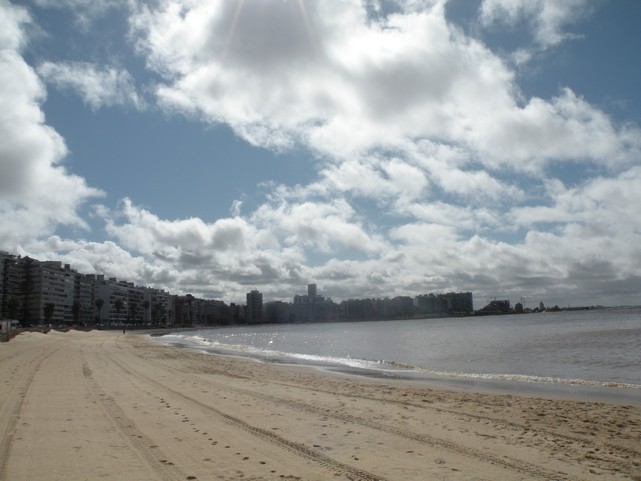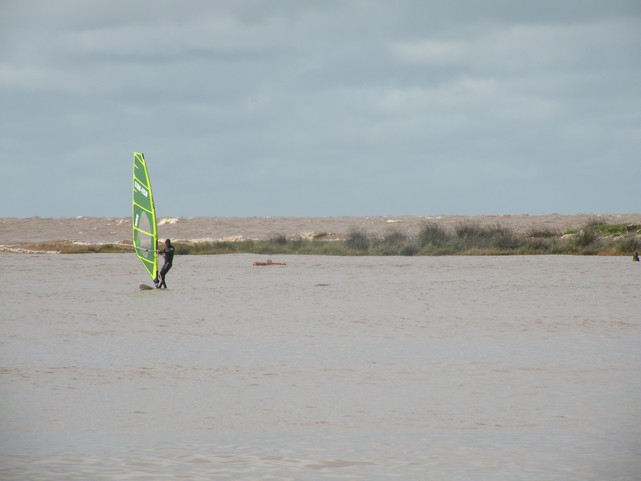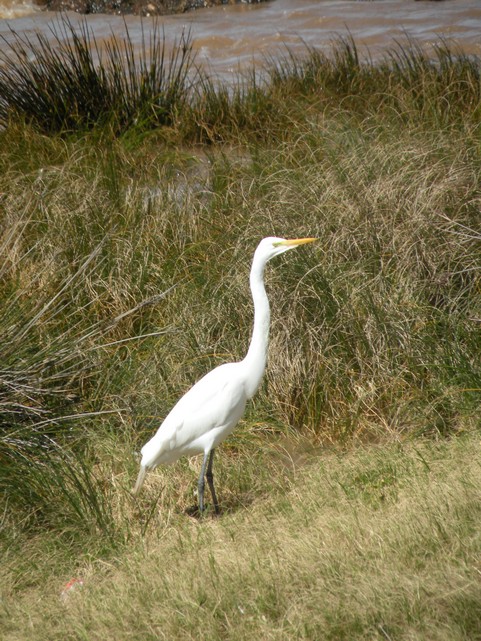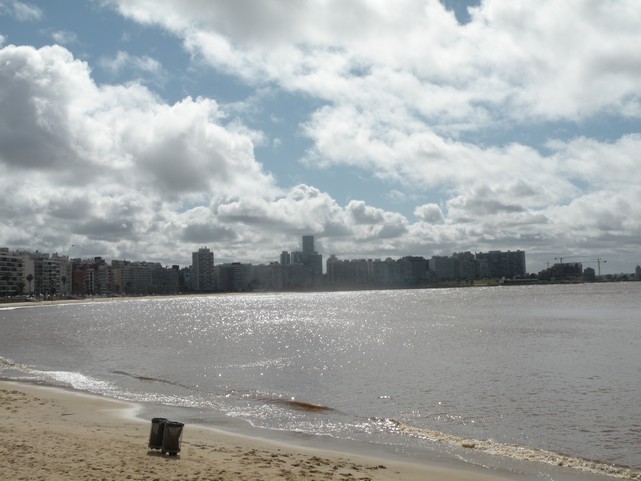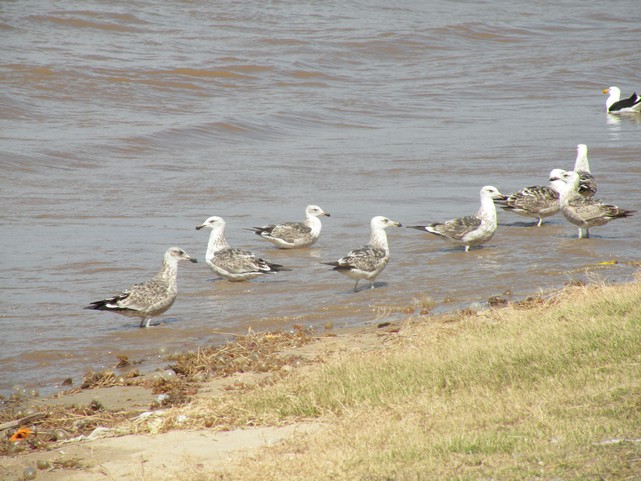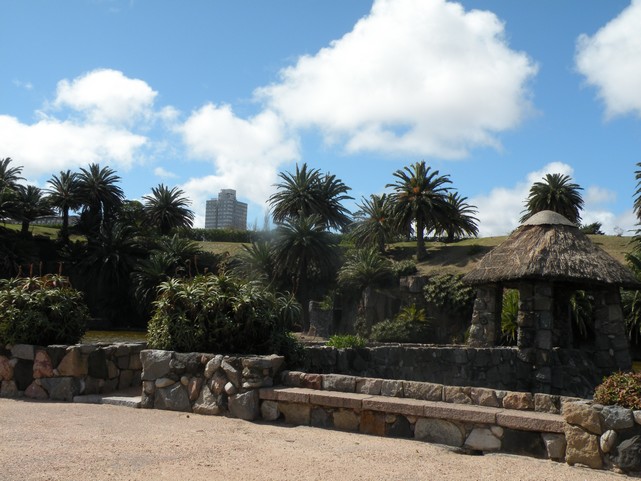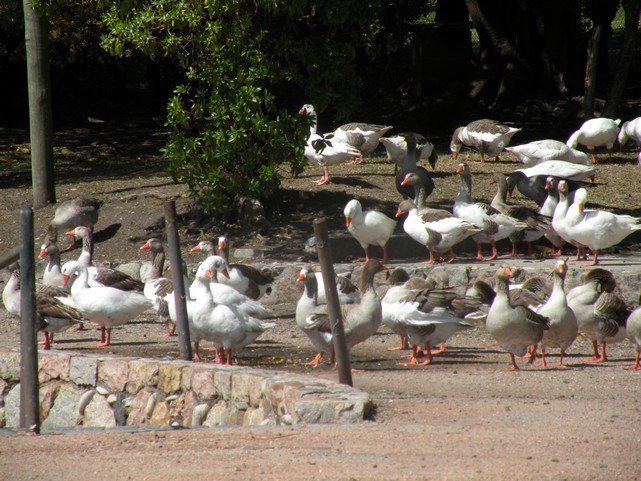 Thousands of geese in a parc in the central of Montevideo.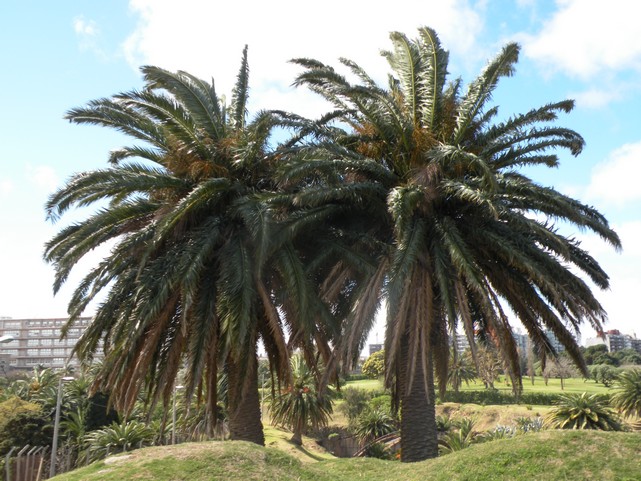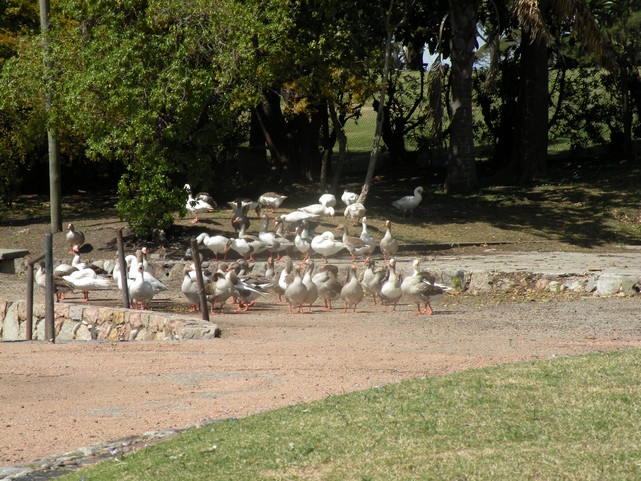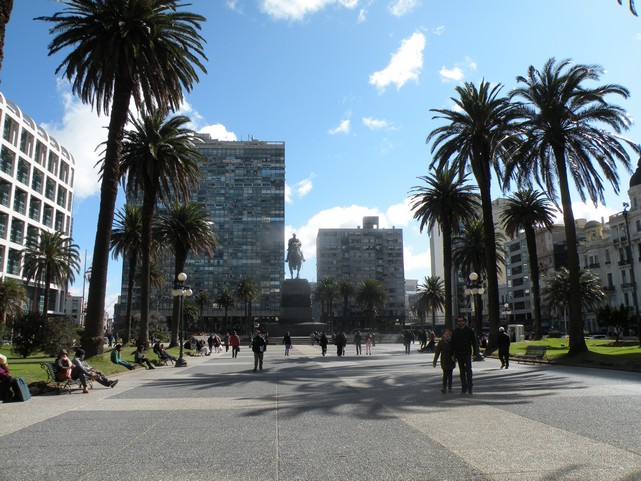 La Plaza Independencia in Montevideo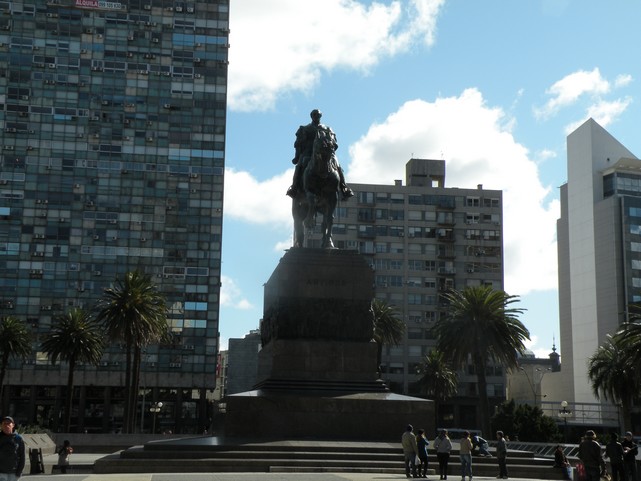 The high statue of Uruguayans hero José Gervasio Artigas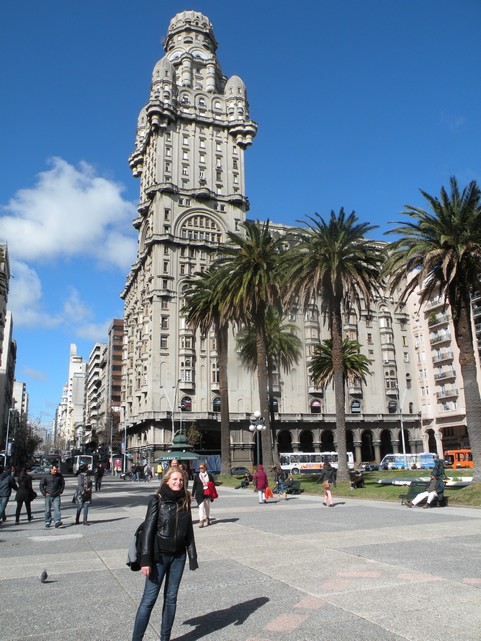 Me in front of the Palacio Salvo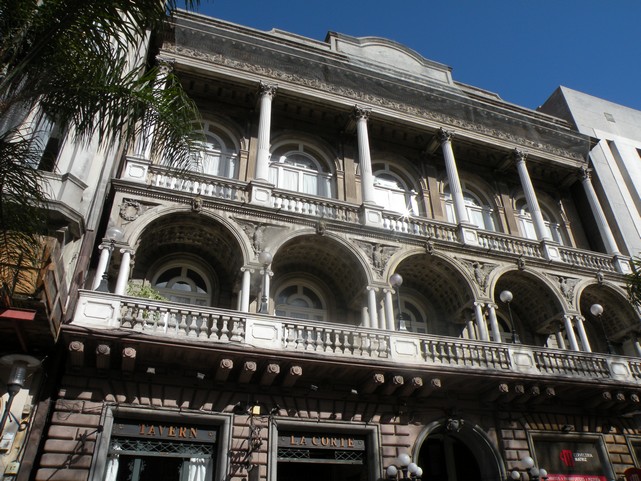 The Ciudad Vieja (Old town)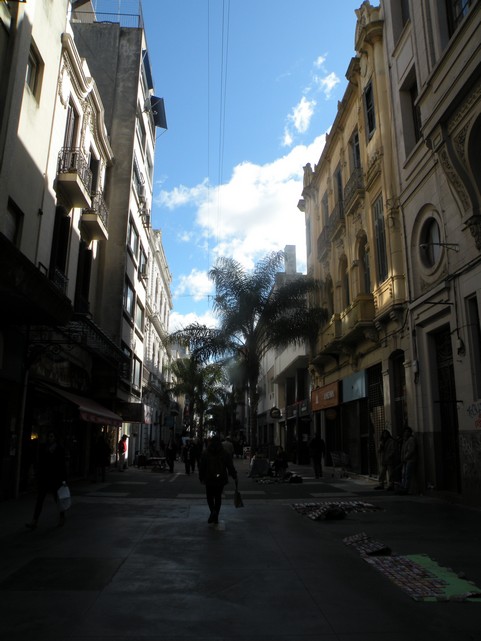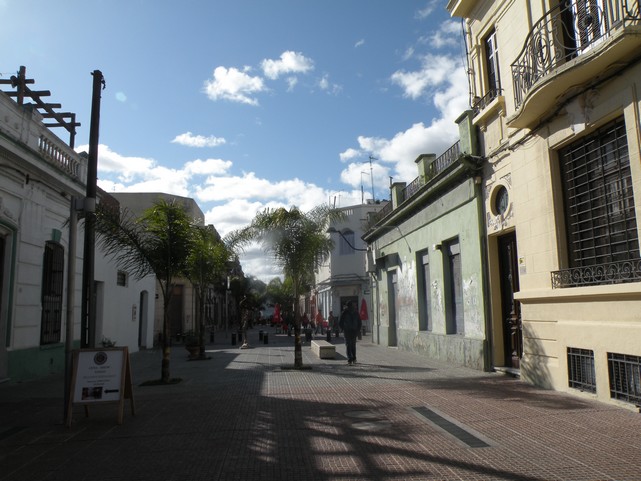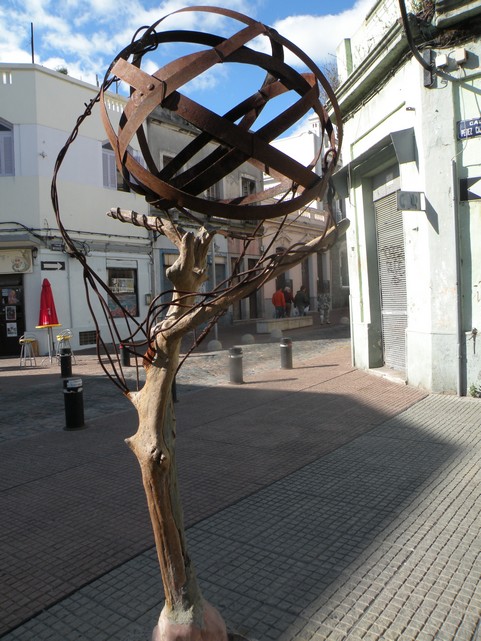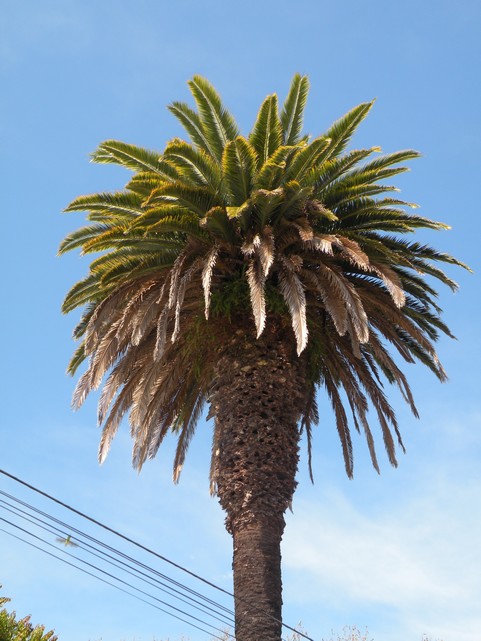 A dog sitter with 19 (!) dogs
The next morning I wanted to walk through the capital of Uruguay. I took the way to the beach – Punta del Canario. At the beach are big letters of Montevideo. A taxi driver told me that the city changes the letters and colours. This time, it was very colourful. I walked along the coast in the direction of the centre of the city. It was really windy
and not so warm. When I walked I discovered a man who walked with dogs, a dog sitter. But not two or maybe three … no, he had 19 dogs at his leads. I heard a lot of dog sitters before. It seems like it is a common mini job in South America. I saw also a lot of dog sitters in Argentina. But this guy with 19 dogs was my record. Incredible – lucky me I made a photo of him because in Germany I am sure everyone would believe I hyperbolize when I tell this story.
National hero of Uruguay
I walked some hours until I arrived the centre of Montevideo. The city is the largest in Uruguay. More than 1.3 Million people live in Montevideo. According to the Mercer 2015 Quality of Living rankings, Montevideo takes the top spot in South America with rank 78. The next highest ranks in South America are Buenos Aire (91) and Santiago (93). Montevideo has more than 60 districts. One of the tourist points is the Plaza Independencia with the Palacio Salvo. In the centre of the Plaza is a really high statue of José Gervasio Artigas. He is a national hero in Uruguay and some also call him "the father of Uruguayan nationhood" because he fought against Spain during the Uruguayan revolution. His corpse is in the Artigas mausoleum under the earth and under the high statue guarded by two soldiers. The statue is 17 meters high and has a weight of 30 tons. Since 1828 Uruguay is an independent state with Montevideo as its capital.
Also at the Plaza Independencia is the Palacio Salvo. It was built by an Italian immigrant living in Buenos Aires, Mario Palanti. The Palacio remembers to the Palacio Barolo in Buenos Aires which is also from the same architect.It was planned that the building also should have a lighthouse at the top of the building. But this was replaced by a set of antennas. It was finished in 1828 and has a height of 95 metres. Unfortunately, I hadn't enough time to see the Palacio from inside. Behind the Plaza Independencia begins the Ciudad Vieja, the old city. It has a lot of beautiful colonial buildings and national heritage sites.
Hospitable Uruguyans save my life
Okay, perhaps this heading sounds a little bit too dramatic. But at one point I recognised that I hadn't so much time to catch my ferry back to Buenos Aires.
I took a taxi back to the hostel to pack my stuff. However, it was already really late and I was almost out of Uruguayan money. It wasn't enough to pay a second taxi back and I wasn't sure which bus I had to take. However, I asked the electrician of the hostel to help me. We talked a little bit the last days. So, I asked him to help me to find the right bus. Unfortunately, we had some communication problems because he spoke just a little bit English and my Spanish is really, really bad. In the end, he took a look at my ferry ticket. He talked with a girl from the hostel, then he said I should follow him. I thought he showed me the bus stop because it would be too hard to explain it. But I had forgotton about the hospitable of South Americans. He drove me to the harbour and brought me till the check in. I even wasn't allowed to give him money for the parking ticket he had to pay to bring me in. He is really so nice and friendly (At this point: ¡Muchas gracias!).
I arrived 50 minutes before the ferry took off. I was really lucky. My friend in Buenos Aires had told me I have to be one hour earlier at the harbor to check in. When I took a second look at my ticket I saw that I should check in two hours earlier (I already said my Spanish is bad but this sentence I understood). In the end, I think I am very lucky that South America is more flexible with time.