The next Christmas market I visited was the one around the Kaiser Wilhelm Memorial Church at the Breitscheidplatz in Charlottenburg. The Christmas market is right next to the famous shopping street of Kurfürstendamm. You can reach it by subway getting out at "Zoologischer Garten" or "Kurfürstendamm".
What is a Christmas Market? Christmas markets are street markets during the weeks of Advent. These kind of markets are really typical for Germany, but also Austria, South Tyrol (Northern Italy) and some eastern regions in France. The history goes back to the Late Middle Ages of German-Speaking parts in Europe. Christmas markets have a lot of different stalls which sell all kinds of things, also typical Christmas dishes as German gingerbread ("Lebkuchen"), candied almonds, a variety of sausages ("Bratwurst") and hot mulled wine ("Glühwein").
One of the most famous churches in Berlin is the Kaiser-Wilhelm-Gedächtniskirche at the Kurfürstendamm in Charlottenburg. The original church was built in 1890 but was damaged in a bombing raid during the Second World War. Nowadays the church is an important landmark of (former) West-Berlin.
I really enjoyed the mood of the Christmas market there, because of the thousand beautiful lights in the trees and on the stalls as well as a carpet of lights above the heads of the visitors. A popular photo setting is also the huge Christmas baubles decorated with even more lights. Really typical for the markets in Berlin are the big Christmas pyramids with candles and figures from the nativity scene.
The Christmas market is way bigger then it seems at first glance because the stalls are spread all over the square and some even continue along die Kurfürstendamm. Usually, it even has a pop-up-restaurant with traditional German cuisine.
The entry of the "City Weihnachtsmarkt"
"Kaiser-Wilhelm-Gedächtniskirche" (Kaiser Wilhelm Memorial Church) is in the thick of the market
The Christmas Pyramid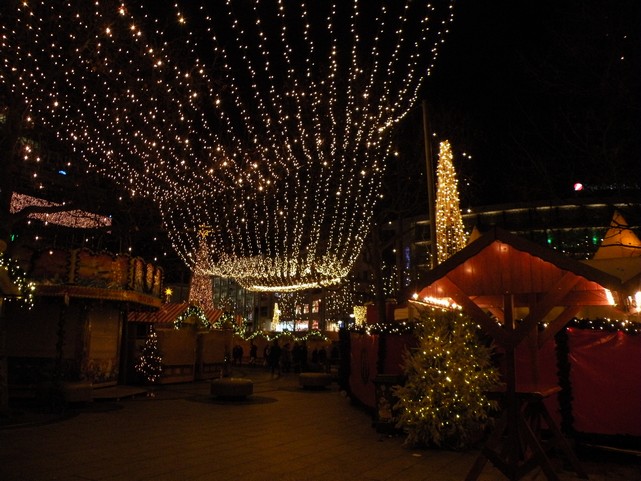 A big Christmas ball ornament
Click here to find more blog post about different Christmas markets in Berlin