In Japan live about 2 per cent Christians. So for sure, it would not be the first country you would associate with Christmas. But this fact doesn't keep Berlin from organising a Japanese Christmas market. What you can find there? Please scroll down …
At the weekend of the second advent I had visited the Japanese Christmas market together with my flatmates (Sometimes we're kind of Asia nerds). The market was in a big hall in Alt-Treptow in Berlin. The first look wasn't really Christmassy (neither the second). There were a lot of different booths with typical Japanese stuff like soft toys, pictures, little action figures and accessories. You found hand-made kimonos and self-made art. The vendors were different people from Germany or Japan, who came to the market to present and sell special things.
Beautiful kimonos
Japanese art
Try sumo wrestling
Thuna-Don and Zenzai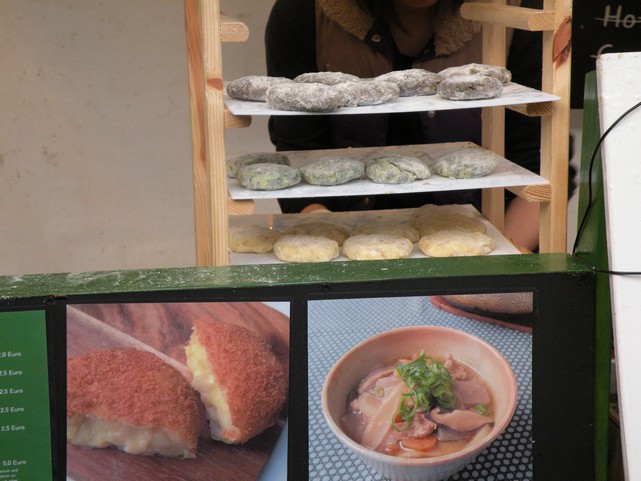 Korokke (related to croquette)
Yakitori (chicken)
Gyoza
And of course, there were many different booths with Japanese food. In Germany is a big trend to eat vegan, so there were also a lot of possibilities to have dishes without animal products. Of course, they had a lot of meals with rice like Japanese Curry or Thuna Don. The last one is a rice bowl with marinated tuna Sashimi. Other little things were Yakitori (chicken) or different crepes with Salmond-Teriyaki, Kimchi-Cheese or Matcha-Atzuki. They also sell kind of Hot Dogs with specific food like Kimchi, Wasabi and Teriyaki. Okonomiyaki reminded me of a big pancake, I think you could compare it with each other. Of course, you could eat typical food like Sushi and Japanese soap. They also sell Zenzai. It's a sweet red bean soup. 
It was really hard to choose only one dish from the big offer. I decided to try Gyoza. It's thinly rolled pieces of pastry filled with meat (pork) or vegetables (vegetarian). If you know the German "Maulentaschen" you will know, what I mean. You eat it with soya sauce. It was really delicious, but I waited for one hour to get them because the food needs a lot of time and many people wanted to eat them. But I was lucky because the seller gave me one Gyoza more. Thanks to the hospitable Japanese.

Click here to find more blog post about different Christmas markets in Berlin