Berlin has over 50 Christmas markets, one of them is the Scandinavian Lucia Weihnachtsmarkt with Glögg, Feuerzangenbowle and the "Open-Air-Mantel-Heizung".
💡 What is a Christmas Market?
Christmas markets are street markets during the weeks if Advent. These kind of markets are really typical for Germany, but also Austria, South Tyrol (Northern Italy) and some eastern regions in France. The history goes back to Late Middle Ages of German-Speaking parts in Europe. Christmas markets have a lot of different stalls which sell all kinds of things, also typical Christmas dishes as German gingerbread ("Lebkuchen"), candied almonds, a variety of sausages ("Bratwurst") and hot mulled wine ("Glühwein").
I just moved to Berlin a few weeks ago. The capital of Germany has a lot of different Christmas markets and I want to try to discover some of them in the next weeks until Christmas. The first market I visited was the "Lucia Weihnachtsmarkt" in Prenzlauer Berg. You can find him at the "Kulturbrauerei" at the subway station "Eberswalder Straße".

The market gets his name from Lucia from Scandinavia, she brings the lights on the 13th December (in English it's Saint Lucy's Day). Of course, you will also get here some Scandinavian drinks like Glögg. But of course, you can also drink the typical hot mulled wine, you can buy at every German Christmas market. Or another choice could be "Feuerzangenbowle". The drink is named after the pliers above it. It's hot mulled wine with rum-soaked sugarloaf, which has a blue flame.
When you easily feel cold you should visit the "Open-Air-Mantel-Heizung" (literally translated Open-Air-Coat-Heater). Visitors can wear one of the coats, which are combined with heaters, which get their warmth from an oven nearby.
"Feuerzangenbowle" (hot mulled wine with rum-soaked sugarloaf above)
Open-Air-Mantel-Heizung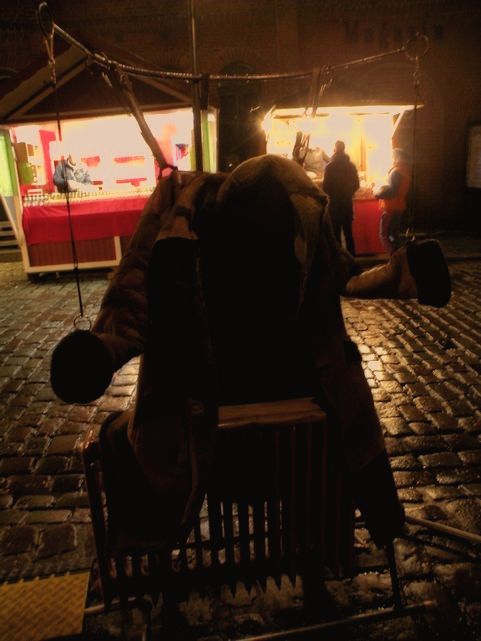 Open-Air-Mantel-Heizung