Berlin has over 50 Christmas markets, one of them is the "Winterworld" at Potsdamer Platz. Potsdamer Platz is one of the most famous places for tourists to visit in Berlin because it is close to the Brandenburger Gate and therefore to the former Berlin Wall. It also offers one of the first traffic lights in Europe (1924), two huge malls, and the Sony Centre nearby. In the Christmas season, there is a huge market – or actually two because they are separated. You can reach the markets really easy with trains and the subway (the station names are also "Potsdamer Platz").
What is a Christmas Market? Christmas markets are street markets during the weeks of Advent. These kind of markets are really typical for Germany, but also Austria, South Tyrol (Northern Italy) and some eastern regions in France. The history goes back to the Late Middle Ages of German-Speaking parts in Europe. Christmas markets have a lot of different stalls which sell all kinds of things, also typical Christmas dishes as German gingerbread ("Lebkuchen"), candied almonds, a variety of sausages ("Bratwurst") and hot mulled wine ("Glühwein").
The Christmas market has a large toboggan run out of ice (however, it costs money per ride). You can also try ice stock sport and ice-skate a small rink. An Austrian cabin ("Salzburger Schmankerl' Hüttn") offers a variety of typical food from our neighbour country. Beside "Obazda" (savoury cheese spread – also typical for Bavaria), "Brettljause" (a wood plate with different meat and sausages), goulash, "Kasnocken" (as the German version of "Käsespätzle" – spaetzles with cheese), also sweet dishes as "Kaiserschmarrn" (sugared and cut-up pancake, typical with raisins), Sacher cake and apple strudel.
My favourite Christmas sweets – Schneeballen (Snownballs)
One of my favourite candies at the market at Potsdamer Platz was "Schneeballen" (means snowballs). I didn't know the dish before. It is like a really large and round cake with chocolate glazing and filled with different topics. I had one with white chocolate and filled with nougat. I don't want to make too many covered advertising, though it was really tasty.
A toboggan run out of ice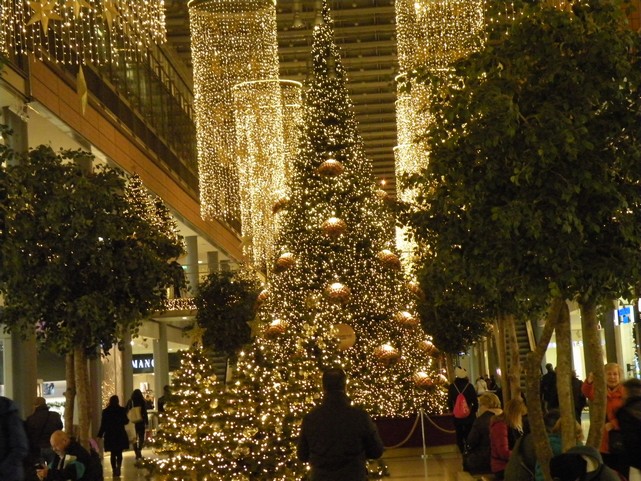 Inside the shopping mall
"Schneeballen" - snowballs, out of chocolate
Besides all the food Potsdamer Platz is also a good opportunity to go shopping. A large shopping mall is full of golden lights and decoration, in my opinion, it's a little kitschy (but hey, it's Christmas). Also really kitschy is a big colourful Christmas tree with tonnes of lights in front of the Theatre of Potsdamer Platz. Last but not least, the stallholders also sell different things as clothes, Christmas decorations, lights or handmade woollen hats.
Click here to find more blog post about different Christmas markets in Berlin